Job Title: Sale Engineer/Executive
We are a leading manufacturer of Rotary screw compressors. Our company is growing rapidly and is searching for experienced candidates for the position of sales engineer. Please review the list of responsibilities and qualifications. While this is our ideal list, we will consider candidates that do not necessarily have all of the qualifications but have sufficient experience and talent.
Location: Ahmedabad, Rajkot & Morbi.
Qualifications: BE / Diploma Mechanical – Electrical engineer having 2 – 3 years experience in sales for Industrial capital good & screw compressors. A candidate with a pleasant personality and good communication skills can apply. Salary no bar for experience & result-oriented candidate.
Email your Resume: falgun@saimona.com
Call/ Whatsapp: +91- 9825032784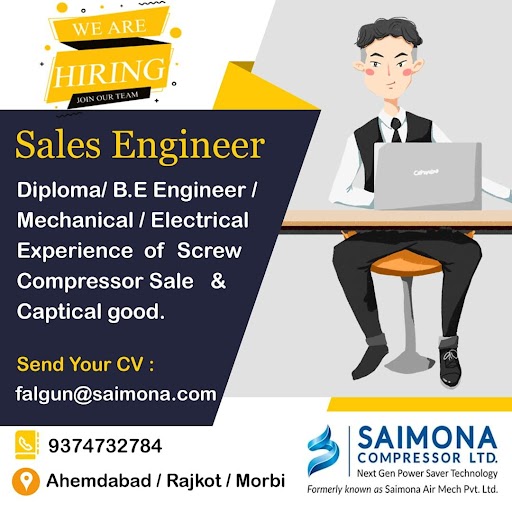 Manager : Manager Marketing with engineering / marketing expertise to establish dealer / distributor sales channel nationwide for industrial capital goods.
Area Sales Manager : Suitable Candidate with relevant Experience with proven track record for area (zonal) Manager for industrial capital goods.
Experienced Marketing back office executive having good communication skill with computer knowledge for E-marketing & SEO. Experience in industrial Capital Goods will Be Preferable.
(Salary No Bar For Suitable Candidate Applies Within Ten Days.)