Screw Compressor Manufacturers in Ahmedabad
(advanced user friendly design)
A leading Manufacturer, Supplier & Exporter in Air Compressors from India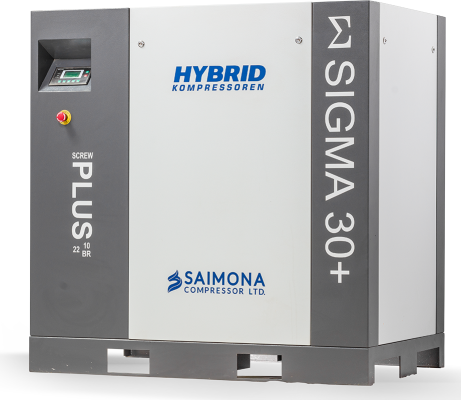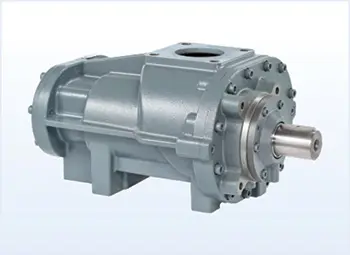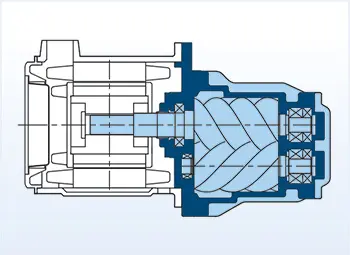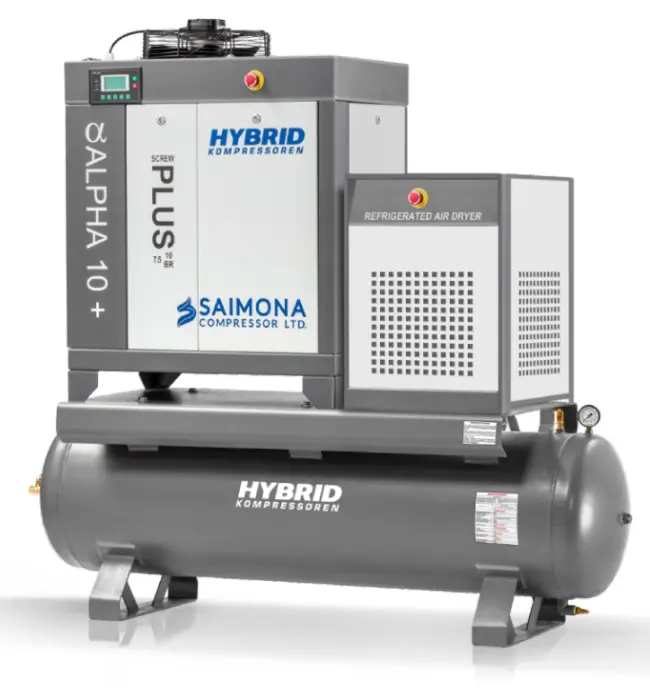 Model
Power
Pressure
Flow Rate 
HP
kW
Bar
CFM  
  M3/ min
SIGMA
Σ 30+
30
22
6 – 8 – 10
144 – 128 – 114
4.07 – 3.63 – 3.23
ZIGMA
Z 40+
40
30
6 – 8 – 10
205 – 177 – 155
5.8 – 5.04 – 4.40
MEGA
M
50
37
6 – 8 – 10
254 – 230 – 191
7.2 – 6.5 – 5.43
GIGA
G
60
45
6 – 8 – 10
314 – 276 – 240
8.88 – 7.83 – 6.80
TERA
T
75
55
6 – 8 – 10
392 – 336 – 293
11. 9.53 – 8.29
PETA
P
100
75
6 – 8 – 10
490 – 454 – 399
13.89 – 12.88 – 11.32
Model
Power
Pressure
Flow Rate 
HP
kW
Bar
CFM  
  M3/ min
NANO
N 7.5
7.5
5.5
8 – 10 – 12
31- 28 – 26
0.88 – 0.80 – 0.74
ALFA
α 10+
10
7.5
8 – 10 – 12
45 – 42 – 38
1.30 – 1.20 – 1.08
BETA
β 15+
15
11.0
8 – 10 – 12
62 – 59 – 56
1.80 – 1.70 – 1.58
GAMMA
γ 20+
20
15.0
8 – 10 – 12
88 – 85 – 82
2.25 – 2.40 – 2.32
DELTA
Δ 25+
25
18.5
8 – 10 – 12
101 – 98 – 94
2.86 – 2.78 – 2.66
SIGMA
Σ 30+
30
22.0
8 – 10 – 12
125 – 121 – 115
3.52 – 3.44 – 3.28
Applications
Single-stage rotary screw air compressors, Two Stage Screw Compressor used in stationary and mobile applications with air discharge temperature up to 120°C.
Benefits
Outstanding resistance to deposits formation ensures improved air compressor
Efficiency and hence longer running periods and reduced maintenance costs.
Excellent demulsibility ensures smooth functioning of oil separator element.
Exceptional overall protection against corrosion, rusting, wear.
Excellent oxidation and thermal stability hence longer oil drain interval.
We Supply
We Supply only high quality air compressor lubricants at prices that will allow your customers to save money over OEM lubricants. OEM's can not require you ot buy lubricants from them to retain your warranty.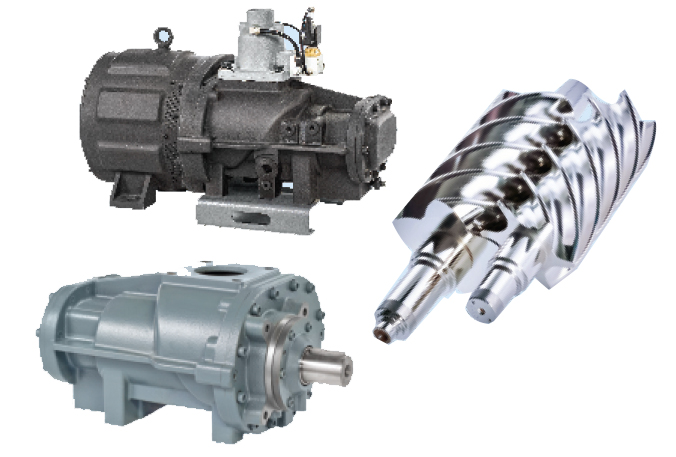 State-of-the-art Compressor Airend
Optimal energy efficient & outstanding reliability is achieved from patented design third generation non-symmetric robust rotors, superiror bearings & oil seal that help the compressor airend to operate with good dynamic balance, low vibration, low rotation speed and low noise level.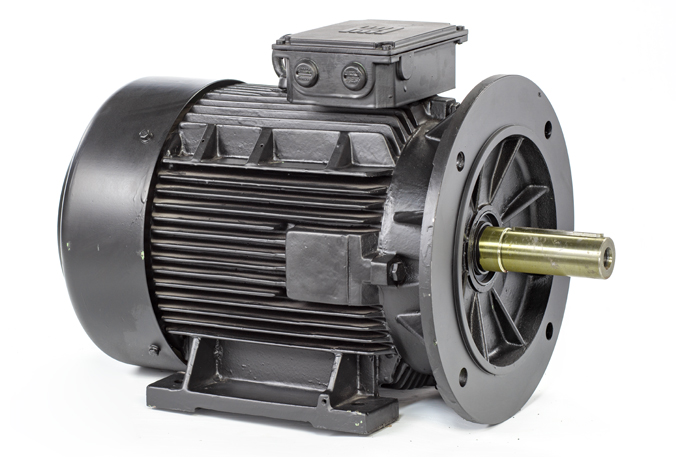 Energy Saving Electric Motor
The special modified electric motor can achieve high efficiency of 95.2% that brings an unprecedented level of energy saving. high quality high speed bearings from 'SKF' are fitted for continuous troble-free operation.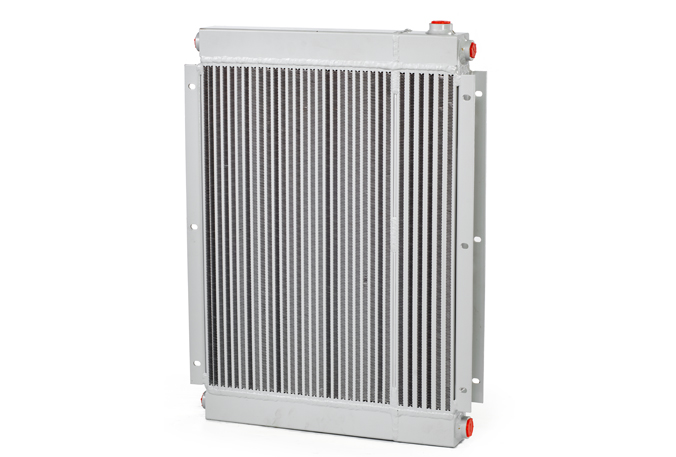 High Efficient Air & Oil coolers
The enlarged high efficiency oil & air combination air-cooled after cooler is specifically designed for South East Asia climate to assure all components work perfectly even under high ambient temperature & humidity summer season. All design data are referenced at 46°C ambient temperature.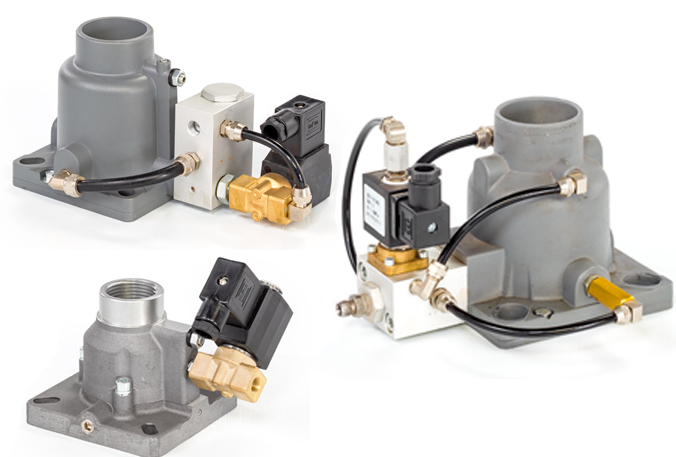 Modern Concept Suction Control System
Modern concept suction control valve with automatic closure to prevent any oil escape. The control unit can automatically adjust from 60-100% according to the system air demand to effectively minimize operating cost.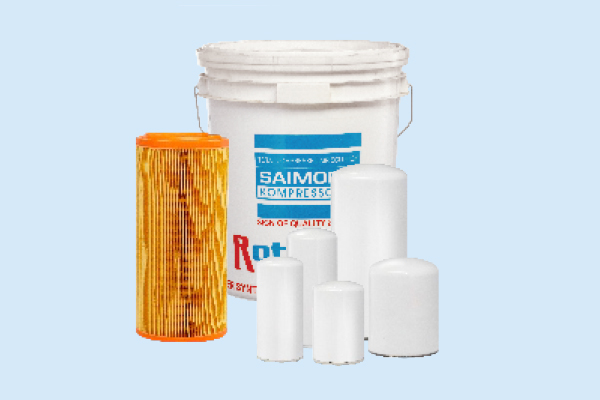 High Quality Genuine Spare Parts
All high quality and durable spare parts are designed, manufactured and tested in Europe to meet with the most stringent international standards.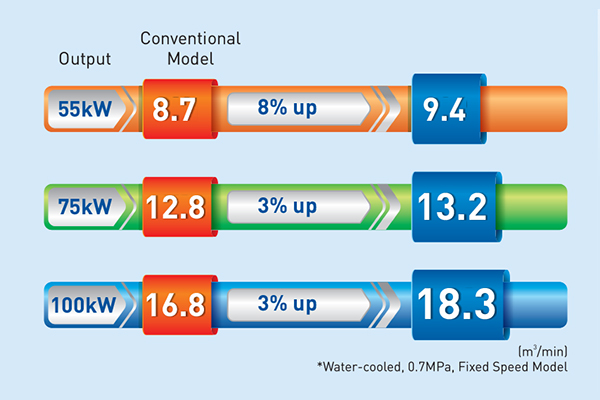 High Performance
Equipped with new airend
High capacity is realized by newly developed Airend
Low Noise Design
Low Noise achieved by the low-noise rotor profile, adoption of vibration-proof driving system and low noise structure of suction and exhaust.
Energy Saving
Stranded Compressor
Purchasing Cost
Maintanance Cost
Energy Cost
Saimona VSD Compressor
Purchasing Cost
Maintenance Cost
Energy Cost
Energy Saving